How To Plan A Destination Wedding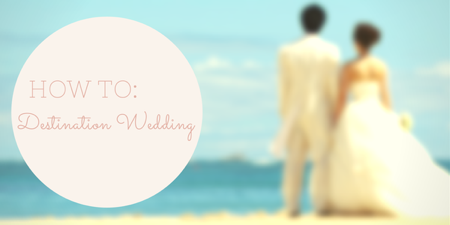 Half holiday and half wedding, having a destination wedding at a faraway location isn't as difficult to plan or execute as you may think.
To make your life easier, we're going to cover a few tips for anyone looking to plan a destination wedding.
Location, Location, Location
Location is everything when planning your destination wedding. The first thing you should consider is how easy the location is for your family and close friends to get to your destination. Most couples aim for exoctic locations that they've always had in the back of their minds. Before you book, think about how realistic this is for your loved ones to get to as well as the paperwork needed to marry legitimately in that city or country as a visitor. Yes, this exists. In order to marry in a different country than your own, you must request and file paperwork to make it legal in the US. Some of the more complicated countries include Italy, Mexico, and the Cayman Islands.
Make sure to visit your location prior to the big day to ensure that the accommodations, locations, and food are everything you wanted and more. Make sure to meet the people who will be helping to make your dream wedding possible (the wedding planner, on-site coordinators, etc.)
Budgeting
More often than not, destination weddings are cheaper to host but more expensive for guests to attend. When planning a destination wedding, you can forget fancy decor since the beach and sunset will set the scenery for your wedding. For a destination wedding, it's also much more accepted to have fewer guests in attendance, which cuts down on food expenses.
For your guests, a destination wedding may be more pricey than they had planned. They have to pay for plane tickets (round trip), hotel accommodations, and plan for vacation time in order to make it to all of your wedding. Make sure to plan out your attendees' costs as well as your own to insure that it's within everyone's reasonable budget before booking.
Logistics
So your wedding is on the West Coast, but your groomsmen and best man are scattered across the country. With Savvi's Coast to Coast Certified Fit Guarantee, your bridal party doesn't have to live in the same city, to take advantage of Savvi's incredible tuxedos. Savvi Formalwear stores are located all over North America and with the Savvi Online Wedding Manager you can easily send your groomsmen and best man specific instructions of how to measure and map out their perfect tuxedo. They can be measured at any Savvi location, and submit their measurements directly online. Savvi will then custom fit their tuxedo and send it straight to your wedding destination. It's as simple as that. Learn more about how Savvi can accommodate any "Out of Town Groomsmen" in your Wedding Party!
Plan ahead
Planning for a destination wedding takes a lot of time, preparation, and commitment. Make sure you tell your guests well in advance that you are planning a destination wedding and that they should plan for ___ date. It's respectful to tell them about 6 months in advance to ensure that they can get cheap plane tickets and accommodations. Actual invitations should go out to your guests about 8-12 weeks prior to your big day, but they should already know the date before receiving the invite.
The overall generalization we can make about destinations weddings is to plan, plan, plan far in advance of the big day. Make sure that you have addressed every single detail including the location, transportation, and accommodations; you definitely don't want to overlook anything.